Thai Social Security Fund to increase rates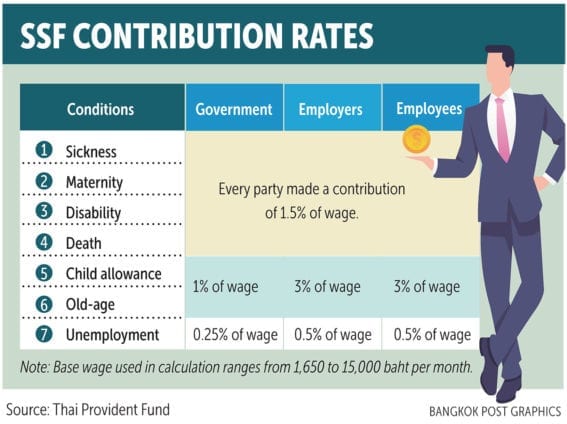 Thai Social Security Fund to increase rates
19 Nov 2019
As with most modern societies, Thais are now living longer and as a result, now have more over 65s than ever before. Measures need to be put in place to pay for long-term compensation, which is why the board of directors of Thailand Social Security Fund (SSF) have proposed an increase in the fund's contribution rates.
Monthly Compensation Rates for Thai Social Security Fund
The secretary-general of the SSF, Ananchai Utaipatanacheep explained the increase was a necessity to cater to the long-term needs as Thailand becomes an aged society. The highest compensation rates currently available are between THB4,000 and THB5,000 per month, but with Thailand experiencing year-on-year growth and the subsequent inflation, Mr Ananchai stated that this figure would soon be inadequate.
Increasing Maximum Contributions
The current maximum monthly contribution into the SSF is THB15,000, and the total annual contributions are in the region of THB100 billion each year. Of this amount, an estimated 6% goes into the Old Age Pension Fund. As the number of aging individuals increases due to improved healthcare and overall better standards of living, the amount will soon fall well short of the necessary sum required.
From 2020, the SSF has proposed increasing the maximum contribution to THB15,000 per month with incremental increases to follow until the rate reaches THB20,000. Although any increase is likely to meet resistance in some quarters, it is the only realistic means of addressing a problem that will only exacerbate in forthcoming years.
Assuming that the SSF's board of directors passes the proposal, it will then go before the Labour Ministry then before the cabinet for final approval Mr Ananchai explained. Although this is viewed as a formality, he is aware that it may be unpopular. "We know this is not good timing for raising the contribution rates because of the economicslowdown, but this is a long-term plan, and we have to prepare for the future," he said.
Increasing Membership and High-Risk Investments
In addition to increasing the maximum contribution, the SFF also intends to increase the number of members to 20 million by 2022. The current membership stands at 15 million. It will help cover the long-term shortfall although the fund's assets currently stand at a healthy THB2 trillion, of which 78% is invested in security assets with 22% in more high-risk investments.
The SSF has suggested that their future policy will be to increase high-risk assets up to around 40% of the portfolio. However, this policy is subject to review due to market sentiment and anticipated risk: return ratios.
The SSF was initially introduced in 1990 to provide security for Thai citizens and is very similar to the British Welfare State. The fund covers seven areas: sickness, maternity, disability, death, child allowance, old age and unemployment.
Do you need an accounting company in Thailand? Feel free contact us now!